Victory Net  initiatives raise awareness of NETs and boost fundraising.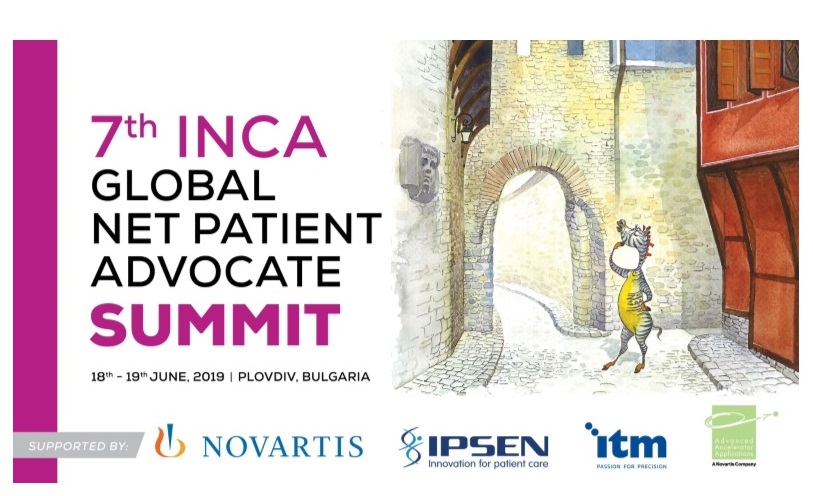 June 2019
21 organizations supporting NET patients from 5 continents met on 18-19 June in Plovdiv, Bulgaria to take part in the 7th INCA Global NET Patient Advocate Summit. The INCA Summit is an annual event that brings together the world's leading patient advocates and medical experts in NETs to focus on latest developments in the NETs field, best practices, and major challenges to be addressed. Structured to reflect INCA's three strategic pillars: raise awareness on NETs, secure access to optimal treatment and care, and advance NET research; the Summit agenda offered valuable insight into all these areas in the context of collaboration.
In 2019, INCA Summit speakers came from a variety of fields of expertise to suggest ways of bridging the gaps in information and communication, quality care provision and research in NETs. The psychotherapist and counsellor Kym Winter, working closely with AMEND and NET Patient Foundation UK, gave a profound overview of the specific unmet need for psychological support for NET patients due to factors like high level of unpredictability of the disease, logistical burden and the understanding of being rare. Tips and lessons learned on delivering the right information for patients at the right time were provided by Jo Grey from AMEND, UK. Cathy Bouvier from NET Patient Foundation, UK shared their expertise in educating healthcare professionals about NETs.
Prof. Vikas Prasad from the Ulm University Hospital, Germany, talked about what is new in PRRT and the need to take into consideration patients' quality of life and toxicity levels in treatment decision-making to truly deliver personalized medicine. Dr. Sugandha Dureja, nuclear medicine expert in theranostics and Chair of CNETS India, presented on how access to PRRT can be improved and introduced the concept of the 3 As (awareness, availability and ability/expertise).
Simone Leyden, INCA President and CEO of Unicorn Foundation, Australia outlined the mechanism of Health Technology Assessment and the challenges of reimbursement decision-making.
Breakthrough research in NETs, based on the impact of genetic studies, was very well outlined by Prof. James Howe, Chair of NANETS presented on. This picture was complemented by Prof. Marianne Pavel, ENETS President-Elect, who profiled the potentially practice-changing clinical trials in NETs. Tamas Berezcky from the European Patients' Academy on Therapeutic Innovation (EUPATI) expanded on patient involvement in research and offered tips and resources for growing research advocacy expertise. The significance of partnering with patients to improve NET care was further highlighted by Dr. Simron Singh, Co-Chair of CommNETs, who elaborated on a few projects of Cancer Care Ontario, set to provide person-centered care.
In the capacity-building session, Yoshiyuki Majima, PanCAN Japan spoke about the key to success when working with regulatory bodies. An insight into fundraising strategies based on the experience of NET Research Foundation was shared by Josh Mailman.
---