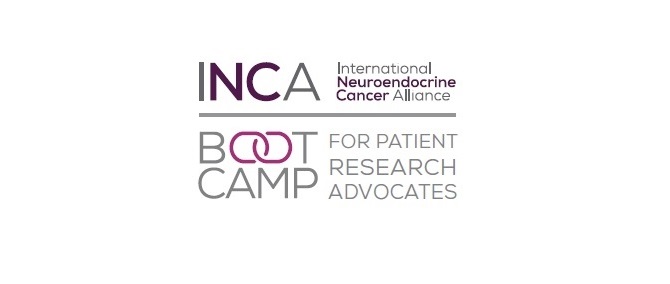 The Victory Net Foundation is proud to participate in The INCA Boot Camp for Research Advocates, the first disease specific program for patients advocates in NET cancers.
The INCA Boot Camp for Research Advocates is composed of 18 neuroendocrine cancer patients from Africa, Asia, Australia, Europe and North America. The Boot Camp for Research Patient Advocates is a 9-month online training program that will run from June 2020 to February 2021, specifically for NET patient advocates representing member organizations of INCA. The program will be carried out by the Patvocates Network via monthly webinars, covering specific topics such as knowing the disease, existing treatment, research and development, clinical research, processes and more.
The scheduled online sessions are as follows:
Online meeting – 15 July – How medicine development works – Why patient engagement matters
Online meeting – 12 August – Statistics and why they matter
Online meeting – 14 September – The importance of Patient Reported Outcomes and Quality of Life measures
Online meeting – 12 October – Evidence based patient advocacy
Online meeting – 19 November – Patient advocacy and community advisory boards
Online meeting – 20 January 2021 – Big Picture – How it all comes together – from R&D to access
Online meeting – 17 February 2021 – Getting to the next level : training and education to become a powerful advocacy patient
The program aims to educate leading NET patient advocates, who would share their knowledge in their local communities and encourage more active patient involvement in clinical trials from the outset. Simone Leyden, Chair of the INCA Research Committee, has emphasized the importance of this project for INCA and for the whole NET patient and advocate community.
Thank you INCA Alliance for making this possible!